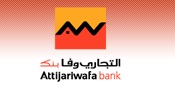 Attijariwafa Bank
Attijariwafa Bank
Attijariwafa Bank is one of Morocco's largest banks but it is also one of the largest in Africa. It has a presence in 23 countries in addition to Morocco, mostly in Europe. The group has 6.8 million customers and over 16,000 employees. In Morocco there are over 7,000 employees and 5,263 branches. Banking services are available for businesses and individuals plus there are specific products available for professionals. The range of products that it offers includes day-to-day accounts, deposit accounts, foreign currency account, credit cards, credit products, and investments.
Their head office address is: 2, boulevard Moulay Youssef, Casablanca, 20000, Morocco
They can be contacted by telephone: 212 5 22 22 41
Source: http://www.attijariwafabank.com/
Attijariwafa Bank Services
Personal Banking
Loans
Payment Services
Cards
Collections
Overdrafts
Foreign Currency Accounts
Savings Accounts
Individual Investments
Bonds
Certificates of Deposit
Derivatives
Investment Funds
Structured Products
Capital Markets
Private Equity
Asset Management
Custody
Attijariwafa Bank Discussion
Q: i have a bank account ath this bank and i from uk, i was doing business in morocco which has closed now and i had given cheques in the past and i made people awae that their is no money in this account so dont give cheques in and i want to close my bank account what do i do?